Malathaat Returns in the Coaching Club American Oaks (G1)
Author: Chris Adams
Published: Thursday July 22, 2021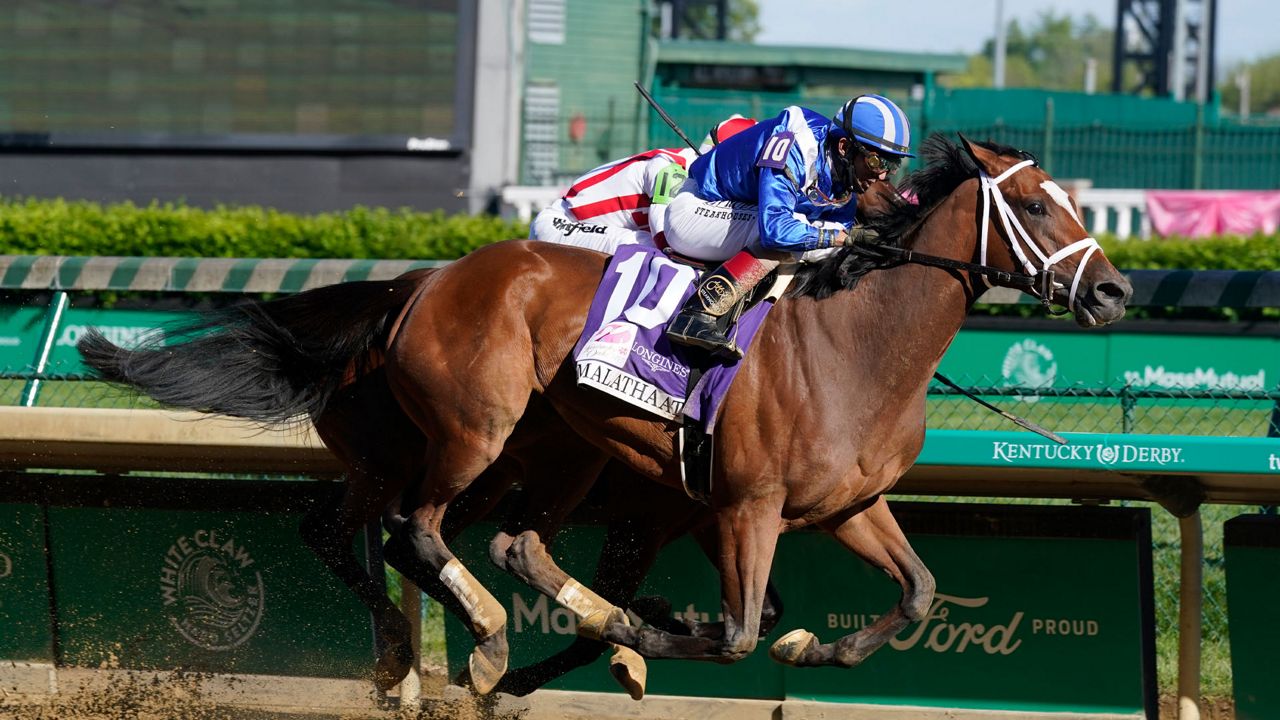 Perhaps the most consistent runner in any division over the past 2 years has been Malathaat. On Saturday, July 24 she looks to remain unbeaten in her 6th career start.
Saratoga Trends
Although it is early in the meet, some trends have already started to emerge.
Most glaringly in the dirt course horses coming from the back have struggled to win. Only 4 winners in 20 races have been able to do so from more than 3 lengths back at the first call. This may partially have to do with the rain that altered conditions last week, but Saratoga received a deluge of rain again this week and the track is likely to hold moisture throughout most of the weekend.
On the mellon, or outer, turf course the story has been post position. While there have only been a combined 8 races run on the course, the first three posts currently account for 5 wins. Early speed has held at times in sprints, but on the whole the turf races have been dominated by horses coming from the middle of the pack.
The inner turf course shows no real preference for run style at this point. Unsurprisingly given the tight turns, saving ground inside has been advantageous to this point. Last weekend's rain limited the sample size to 7 races, all of which were routes, but 4 of the winners have come from posts 1,2, and 3.
Coaching Club American Oaks (Grade 1)
History of the CCA Oaks
Coaching Club American Oaks was inaugurated in 1917 and has been run every year since. The grade 1 dirt route has fluctuated between 9 furlongs and 12 furlongs. The race has been run at a mile and 1/8th or 9 furlongs since 2010 when it was moved from Belmont to Saratoga. The race was also at Aqueduct for a time meaning that it has been contested at all three active NYRA tracks.
Mike Smith and John Velazquez hold the record for most wins by a jockey in the race with 5 each. Smith last won in 2017 aboard Abel Tasman. Velazquez last piloted Curalina to victory in the race in 2015. Velazquez could take the outright lead if Malathaat wins. Mike Smith was the rider in the last race for Crazy Beautiful, but she has been ruled out for Saturday's race.
Todd Pletcher looks to expand his trainer record in the race. Currently holding the top spot with 7 wins in the Coaching Club American Oaks, Pletcher trains Malathaat, who will likely be the heavy favorite in the race.
Prominent winners of the race include Monomoy Girl (2018), Songbird (2016), Davona Dale (1979), Ruffian (1975), and Shuvee (1969). The latter has a Grade 3 stakes race named after her that will be run on Sunday at Saratoga.
Coaching Club American Oaks Analysis
This year's 3 year old filly division has been one of great conversation. In every major race within the division, the question has always started with where is Malathaat. When she runs, she's favored and to this point has delivered every time.
Many handicappers are trying to find ways to beat her here, pointing to small margins of victory and certain racing conditions. While valid to look for ways around the favorite, it is hard to deny that this horse just loves to win and that is a special quality in equine athletes.
Malathaat's most impressive competition has come in the form of Search Results, but she is not scheduled to appear in this spot. Crazy Beautiful has also shown flashes of brilliance, but despite pointing here she has been ruled out.
Any potential upset is likely to come from Clairiere. When Malathaat was on the bench this filly and Travel Column had quite the budding rivalry and she looked a real player in the division. However, since winning the Grade 2 Rachel Alexandra she has finished 2nd, 4th, and 3rd respectively. The 4th place finish was several lengths the likely favorite in this race.
Perhaps the most intriguing entry in trying to beat the favorite is Rockpaperscissors. The WinStar Stablemates filly took a huge step forward in her 2nd start and first at a route of ground at Churchill. She has been off since September of last year which is a concern, but is likely to be a huge price and might be the best value play if looking to beat the favorite.
Maracuja is the final runner entered in the field of 4. The runner was last seen finishing a distant 7th in the Grade 1 Kentucky Oaks. It would take a big step forward for this one to get on par with the others in this field.
DHP Tools Help Handicap the Coaching Club American Oaks
Daily Horse Picks has a number of tools that can help your handicapping. If you're looking for biases, the speed and bias tool can help you cull through hundreds of races to establish which run styles and speed types have been successful.
The jockey and trainer analysis tool helps players to identify which human connections have had the most success. This data can also be cut down to emphasize specific tracks, surfaces, and distances.
One of the best ways to use the DHP AI handicapping is to use the win percentages for the race to help determine value. In order for a horse to be good value they should have odds at or above what their implied value indicates. Using a conversion chart you can determine which horse to bet on based on which one provides value.
If a horse is listed as a 22% chance to win, the chart indicates that the horse should be 7-2 or higher. If the horse is 5-2, pass or find a different runner that provides value.
For access to premium products for this weekend's action visit www.dailyhorsepicks.com/buy