Kentucky Downs Wraps This Weekend With Several Stakes
Author: Chris Adams
Published: Wednesday September 08, 2021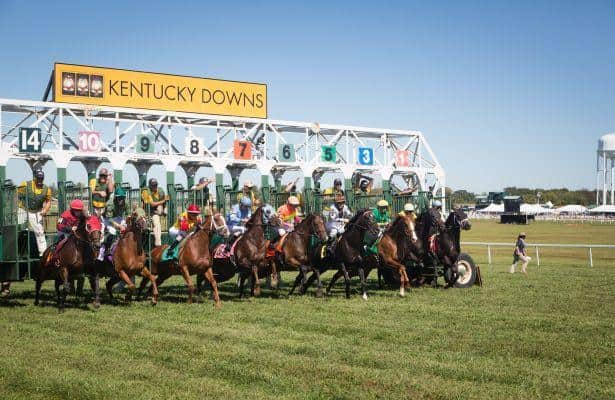 The Kentucky Downs meet may only be 6 days, but the racing is unlike any other in the US. This weekend the european-style turf course wraps the season with 5 graded stakes and 2 Breeder's Cup Challenge races.
Kentucky Downs is One of a Kind
Dueling Grounds
Formerly known as the Dueling Grounds, Kentucky Downs sits just off the Tennessee and Kentucky border. Formerly part of a private farm, the original name of the track came from the prevalence of duels that took place in the areas throughout history as the practice was outlawed in Tennessee but legal in Kentucky.Eventually the name was changed to Kentucky Downs and it has become one of the truly unique meets in U.S. thoroughbred racing.
European Style Racing
The legends of American racing are horses like Alydar, Secretariat, and American Pharaoh. What do all of these horses have in common? They were dominant on dirt. Overwhelmingly U.S. horse racing emphasizes early speed and classic pedigree. This gives American owners the chance at taking down prestigious races such as the Kentucky Derby, the Travers, and the Breeder's Cup classic.
Inversely, European courses are predominantly oblong or straight turf with soft going and undulating ground. Kentucky Downs is much more closely related to these types of tracks than its American counterparts. The track provides no dirt surface and is not in an oval. Throughout the running of a given race horses will run on both inclines and declines which can have massive impact on the way the race is being run.
Handicapping Kentucky Downs
Pedigree Matters
A number of the races feature up and coming stars of the game. In any of these races look for strong turf pedigree. Depending on your handicapping products, there are a number of ways to check the pedigrees from Tomlinsons to GSR to Brisnet Ratings and so on.
Without assigning specific data to a horse, players can always check the sire and look for European bloodlines which tend to be more productive on turf. Foreign sires will be indicated with the sire's country in parenthesis after the name. Ireland (IRE), France (FR), and Great Britain (GB) are often the most proficient.
Play Connections
With the unique course configuration and race dynamics, human connections play a major role in the outcomes of the races.
Trainers
From a trainer perspective, look for trainers with strong turf backgrounds. Historically Wesley Ward, Christophe Clement, and Mike Maker have been successful at the meet. Inversely, trainers that are often good on dirt can struggle at the track. This includes trainers like Steve Asmussen and Dale Romans. Playing against these connections can often juice value
Jockeys
Much like trainers, jockeys play a huge role at Kentucky Downs. Making the wrong tactical decision can compromise a horse's chances while a well-timed ride can get a huge price home in upsetting fashion. Jockeys who are successful at Kentucky Downs historically have been Joel Rosario, the Ortiz brother, and Benjamin Hernandez.
Watch the Trips
Understanding how the course is playing can be a huge separator between the parimutuel players. While turf racing is often dominated by horses coming off the pace. However, Kentucky Downs will often test the stamina of horses not used to such a taxing course. This can often lead to an advantage for horses sitting on or near the lead.
The weather can have a big impact on how the track plays and current conditions show dry conditions throughout the week and weekend. This will often help speed hold and speed up the inner paths.
Scared Money Loses
For players that love the product Kentucky Downs puts out, they will point to a couple of key aspects.
First, the fields are extremely large compared to many of the tracks around the country. This leads to more betting opportunities which causes money to get spread around. With handle up already this year that can mean more value on horses even at shorter prices.
Also helping the price is the low takeout on all wagers and the fact that turf racing is often less predictable than dirt racing. Add that to the already unique circumstances of track configuration and players have a recipe for big payoffs.
Several times a day it is common to see massive prices win races. Even when favorites win, the exacta and trifecta are often completed by bombs outside of 12-1. As a handicapper don't be dissuaded just because a horse is cold on the board. If you can make a genuine case for a horse getting in the number, this is the meet to take a stab at it.
Closing Weekend Stakes Action
Wednesday
Claiming Crown Emerald Prep

Claiming Crown Tiara Prep

TVG Stakes
Thursday
Claiming Crown Canterbury Prep

Claiming Crown Distaff Dash Prep

Kentucky Downs Juvenile Sprint

One Dreamer Stakes
Saturday
Calumet Turf Cup (Grade 2 Turf) Breeder's Cup "Win and You're In"

FanDuel Kentucky Downs Turf Sprint (Grade 3 Turf) Breeder's Cup "Win and You're In"

Franklin-Simpson S (Grade 2 Turf)

Kentucky Downs Ladies Turf (Grade 3 Turf)

Mint Ladies Sprint (Grade 3 Turf)
Sunday
Kentucky Downs Ladies Marathon

Music City Stakes

Untapable Stakes
Kentucky Downs Coverage
Watching and wagering on Kentucky Downs can be done from just about any online wagering platform including DRFbets and TVG among others. By opening an account with any of these platforms, players also receive the ability to stream track feeds of the races to follow their wagers.
Those who wish to watch on television will need TVG as part of their cable package or a Racetrack Television Network subscription.